Huang Chien Liang Awarded 1998 Inside Kung Fu Instructor of the Year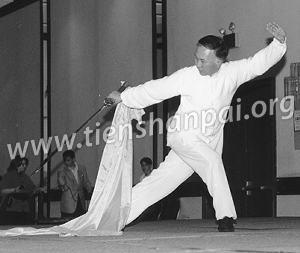 (Reprinted from Inside Kung Fu Magazine)
To judge the positive impact of an instructor, one only has to look at his students. Can they perform or are they sloppy? Are they cocky or are they humble? Do they treat their master and his friends with respect or do they leave their training at the door?
Consider this: prior to his annual Kuoshu National Championships this year, Grandmaster Huang Chien-Liang took several special guests to a traditional Chinese restaurant near the tournament site. Now as you know, traditional Chinese restaurants have pretty good Chinese tea. But for one student, that was not good enough.
In tow for the evening was a box containing all the ingredients for making a special brand of tea. Throughout the evening, one of grandmaster Huang's senior students delivered a steady diet of table tea to the guests. He didn't have to do it, mind you; after all, there was more tea than you could ever hope to drink just 20 feet away in the kitchen.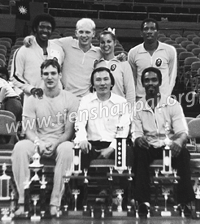 He wanted to do it. Plain and simple.
No big deal? Think again.
Spend enough time with Huang Chien-Liang's students and you will recognize in their eyes the unabashed kindness, the generosity, the selfless devotion to purpose which has made the grandmaster one of the most respected martial arts teachers in the world.
And one of the most envied.
From the time he arrived in the United States in 1973, Huang Chien-Liang became a force in national and international Chinese martial arts. His enthusiasm and dedication to the arts has helped him become a world kuoshu leader. Currently in his second term as vice-president and a founding member of the International Chinese Kuoshu Federation, the grandmaster also serves as president of the Pan-American Chinese Kuoshu Federation and the United States Kuoshu Federation.
A professor of Tai Chi Chuan at Essex Community College in Maryland for more than ten years, Huang Chien-Liang has been invited to teach Chinese kuoshu around the world. Among his appearances are stops in Russia, Germany, Brazil and Mexico. His instructional videotapes on Hsing-I, Tai Chi and Tien Shan Pai are among the world's best-sellers.
But the real proof of an instructor's impact is in the skill level of his students. In that regard, Huang Chien-Liang may have no equal. His fighters are among the best and most well-prepared in the world, consistently garnering top places in international competitions.
As coach of the 1986, 1989, 1992 and 1996 United Stated Kuoshu national teams, he guided his students to titles in forms, weapons and full-contact Lei Tai fighting in World Cup Championship action.
Still, all the trophies and medals in the world would be meaningless if his students failed to exemplify the true spirit of Chinese martial arts.
Huang Chien-Liang can rest easy. His students wear their grandmaster's soul on their sleeves.