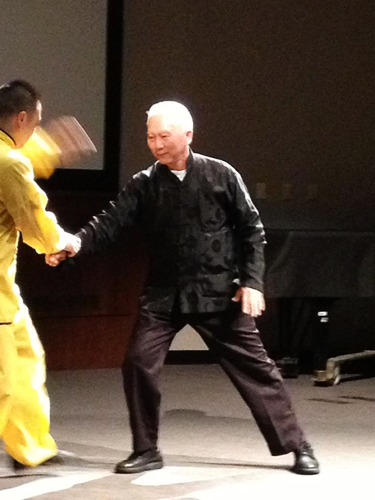 On April 21, 2013, the United States Kuo Shu Federation (USKSF) and Tien Shan Pai Association organized a charity demonstration in honor of Grandmaster Huang, Chien-Liang's 40th year of teaching in the United States. The two-hour demonstration raised over $6,000 for the Sparks of Change foundation.
The charity demonstration was held at the Kossiakoff Center Auditorium on the beautiful campus of the Johns Hopkins University Applied Physics Lab in Columbia, Maryland. The afternoon included 40 different demonstrations performed by Tien Shan Pai students and Disciples from multiple schools including US Kuo Shu Academy, US Martial Arts – Timonium, US Martial Arts – Gaithersburg and Body Balance Healing Arts. Those performances included Tien Shan Pai kung fu forms, internal arts such as Taijquan, Xingyiquan and Baquazhang, and 2-man empty hand and weapons sets. The demonstration included 3 special guests. Master Derek Johnson's Jow Ga Kung Fu Academy performed the opening ceremony Lion Dance and Master Kevin Preston's Siu Lum Pai performed Hung Gar kung fu and iron body demonstration. Guests were treated to a live intermission performance by James Gummer and the Drum Runners.
The highlight of the afternoon was a special video presentation with interviews and demonstrations by Supreme Master Wang, Cheuh-Jen – Grandmaster Huang's teacher. Some of this never-before-seen video footage dates back to the 1970's and 1980's. It also featured Grandmaster Huang demonstrating some of his signature forms (double broadsword, double hooks, rainbow broadsword, Tien Shan 12 Kicks, etc.) across multiple decades. The climatic finale was a live 2-man set demonstration by Grandmaster Huang and his oldest son Master Michael Huang. It was an amazing afternoon of martial arts underscoring Grandmaster Huang's tireless efforts to promote Kuo Shu over the past 40 years in the United States.
The designated charity for the demonstration was the Sparks of Change foundation, a foundation established in memory of Tien Shan Pai Disciple Daniel Siegel. The Sparks of Change foundation helps provide the catalyst for positive change by giving to organizations that will create better communities. A portion of the money raised at the demonstration will be given to Middle Grades Partnership, (MGP). MGP brokers a two-way partnership between public and independent schools to provide comprehensive summer and after-school learning opportunities to help academically promising Baltimore City middle school students prepare for success.
To learn more about Grandmaster Huang, click here
To learn more about the Sparks of Change foundation, click here