Learn from Us
Grandmaster Huang has been spreading the art of Tien Shan Pai since his arrival in the United States in 1973. Today, there are schools all over the world that promote the style passed down from Supreme Master Wang to Grandmaster Huang. Pictured here is his third school location in Cincinnati, Ohio in 1978.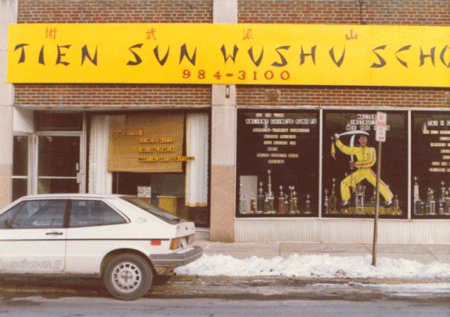 The following is a list of schools associated with Grandmaster Huang, Chien-Liang that teach the Tien Shan Pai style of Kuo Shu (Kung Fu)
Maryland
Body Balance Healing Arts
Instructor: Shi Fu Pat Hancock
15211 Comus Road
Clarksburg, MD 20871
Phone: 301-972-5644
Ohio
Kung Fu University
Instructor: Shi Fu Arlanzo Harper & Shi Fu Tiffany Harper
1110 W Kemper Rd
Cincinnati, OH 45240
Phone: 513-818-5432
California
Instructor: Shi Fu Eileen Wheeler
151 Mill St.
Grass Valley, CA 95945
Phone: 530-477-0677
International Schools:
Affiliates: